I am riding a bus somewhere betweenAtlanta and Columbia as I write this reflection. Obviously the thoughts of our 2018 SCMYP Honduras Mission Experience are running through my mind as fresh as summer veggies from the garden.  So I thought now might be the best time to share a few quick reflections from this week. So here goes:
There is plenty to be excited for in this generation, if we (as adults) are willing to take the opportunity to share the journey with them.  The group of young people that I was blessed to share this experience with are top notch.  They are fun.  They are compassionate.  They are hard workers.  They are adventurous.  They are supportive of one another.  And they are faithful in their walk with Christ and are willing to "walk" their faith and not just "talk" it.  They are interested in becoming more Christ-like.  I had the chance to hear and see these things first hand. If you are an adult reading this I encourage you to find a group of young people to spend some time with.  It will be worth it.  If you are a young person reading this, please keep being you and look for opportunities to share who you are becoming, in Christ, with a caring adult
Air conditioning and media have had a negative effect on our culture.  Each afternoon after we completed our work day, our group would gather before and after supper on the front porch of the dorm and sit in hammocks and in chairs and just talk.  Some conversations were serious and others were just silly.  But they were all enjoyable.  I also noticed that as we were on the porch we had opportunities to talk to many other missionaries as they walked or rode by and to some of the ranch staff.  It was a stark contrast to the U.S. when we run quickly to the confines of our air conditioned homes and watch tv or engage other technology.  I love air conditioning and technology but it struck me that we are much better neighbors when we don't have those things.
We tend to focus more on the differences in people than the similarities, even though there are just as many (if not more) similarities than differences.  We were in a foreign country working side by side with  beautiful people that looked different than us, had a very different culture, vastly different living conditions, and obviously spoke a different language.  However, leaving the village of Corral Viejo, our entire group would agree that what struck us must was not the differences, but the similarities. We played together, worked together, sang together, read the bible together, prayed together, joked with each other, and much more. We hope the people of Corral Viejo learned from us.  We sure learned much from them.  They are a beautiful, faith-filled community striving to live a life that honors God. Which is exactly the motivation our team had for being there in the first place.  The greatest similarity is our desire to walk with God.  And that overcomes a multitude of differences.  I believe our society and our church could learn from that.
A big thanks to our team:  Adam, Ashlee, Bishop Holston, Caroline, Elizabeth, Jada, Lizzie, and Sandra for walking this journey with me.
If you are 16-22 and want to be a part of our team next summer, let me know and Mark your calendar for June 21-29.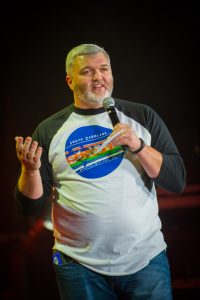 Chris Lynch serves as the Coordinator of SCMYP (South Carolina Ministries With Young People) as well as a Congregational Specialist for the Rock Hill and Spartanburg Districts.  He is married and has 3 teenage daughters, lives in the Upstate of SC and loves to play golf, hang out with friends, and smoke great BBQ