6 VALUES GREAT YOUTH MINISTRIES EMBRACE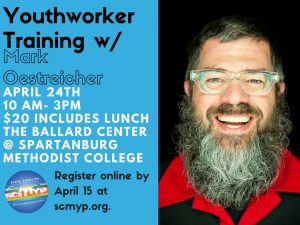 The best youth ministries are unique, and a reflection of their context. But, as culture changes and youth workers experiment with new approaches and priorities, there's a small patch of common ground. It's not a common program, or teaching plan, but a set of values that seem to be shared by ministries that are finding their way in our current reality.
SCMYP is pleased to partner with Mark Oestreicher (Marko) to offer this wonderful training opportunity for youth workers on Monday, April 24th.  The training will take place on the campus of Spartanburg Methodist College in the Ballard Center (behind Judd Hall – click here for a campus map)from 10 AM-3 PM.  The cost is only $20 per person and that includes lunch. Registration is now open and the deadline to register is April 15th.  If you have any questions please email clynch@umcsc.org.
ABOUT MARKO:
Mark Oestreicher (Marko) is a veteran youth worker and founding partner in The Youth Cartel, providing resources, training and coaching for church youth workers.  The author of dozens of books, including Youth Ministry 3.0, Hopecasting, and Leading Without Power: 9 Paths to Non-Coercive Ministry Leadership, Marko is a sought after speaker, writer and consultant. Marko lives in San Diego with his wife Jeannie and two college-age kids, Riley and Max.  Marko's blog: www.whyismarko.com.
NOT MY KINGDOM – YOUTH WORKER TRAINING EVENT
The Youth Worker Network and the District Connectional Ministries of the Columbia District invite all youth workers (full-time, part-time, volunteers) to be a part of the NOT MY KINGDOM Conference.  This youth worker training event will be held on Saturday, April 22nd from 9 am until 4 pm at Mt. Horeb UMC.  Registration is required and is $25 per person which includes worship, breakout sessions, lunch, and lots of FREEBIES.  For more information about the event (speakers, schedule, etc) or to register, please visit notmykingdomconference.com 
District Youth Worker Networks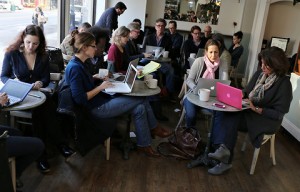 Are you a youth worker looking for a community of like-minded people to share in the joys, thrills, frustrations, and struggles of youth ministry?  Are you a youth worker who is always looking to discover great ideas and share ideas of your own about youth ministry?  Do you enjoy "talking shop" about youth ministry, church, theology, or just fun stuff?  Then we want you to be a part of a SCMYP District Youth Worker's Network.  SCMYP believes that the GREATEST resource that youth workers in the SC annual conference have is each other.  We can learn from each other, care for each other and support one another.  Collectively we are MUCH more effective than we are individually.  However, in order to maximize our effectiveness we must be willing and able to share within and across the connection.  That is why SCMYP is looking to launch a District Youth Worker's Network (DYWN) in each of hte 12 districts within our state.  Some of our districts already have the network in place (and we look to help strengthen those already successful networks) while other districts have no existing network (and we hope to start one soon), but there is not doubt that a DYWN will be beneficial in all situations.  So, if you would like to be a part of a DYWN (or at least hear more about it, please fill out the DYWN information form and we will get you in touch with someone in your district to connect with to be a part (or we will call you to discuss how to start one in your district).