6 VALUES GREAT YOUTH MINISTRIES EMBRACE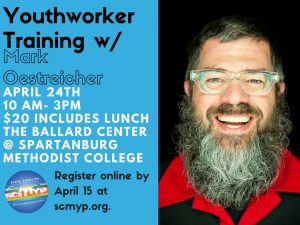 The best youth ministries are unique, and a reflection of their context. But, as culture changes and youth workers experiment with new approaches and priorities, there's a small patch of common ground. It's not a common program, or teaching plan, but a set of values that seem to be shared by ministries that are finding their way in our current reality.
SCMYP is pleased to partner with Mark Oestreicher (Marko) to offer this wonderful training opportunity for youth workers on Monday, April 24th.  The training will take place on the campus of Spartanburg Methodist College in the Ballard Center (behind Judd Hall – click here for a campus map)from 10 AM-3 PM.  The cost is only $20 per person and that includes lunch. Registration is now open and the deadline to register is April 15th.  If you have any questions please email clynch@umcsc.org.