Reggie Dabbs – SPEAKER
Reggie Dabbs is a renowned motivational speaker who has dedicated his life to spreading hope and love to people across the globe. For the past 39 years, he has traveled extensively, speaking at churches of all denominations, reaching out to people of all ages.
Dabbs has a unique ability to connect with his audience, regardless of their age or background. He has a special gift for relating to young people, making him a sought-after speaker at youth events and schools. His energetic and engaging speaking style captivates the hearts and minds of his listeners, leaving a lasting impact on their lives.
Through his speeches, Dabbs aims to bring people closer to the message of hope and love found in Jesus Christ . He uses his own life experiences, including growing up as an adopted child and overcoming personal struggles, to inspire and uplift others. Dabbs' powerful storytelling and relatable anecdotes create a welcoming and inclusive environment where everyone feels valued and loved.
Over the years, Dabbs has traveled extensively, visiting churches around the world. His global reach has allowed him to touch the lives of countless individuals, spreading his message of hope and love far and wide. Whether he is speaking to a small congregation or a large crowd, Dabbs' passion for his work is evident, as he tirelessly shares his message with sincerity and compassion.
SONS THE BAND – WORHIP LEADERS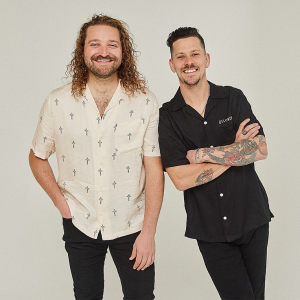 SONS THE BAND is the confluence of Denver transplant, Jordan Colle and Detroit native, Steve Davis. The SONS sound, unmistakably centered around heavy guitars, gospel piano, and gritty, soaring vocals, creates a sonic quilt that threatens to rattle your heart and surround you with an anthemic melody you can't help but sing along with. With influences like Coldplay and The Killers, the gnarly American rock 'n roll storytelling duo have done their best to carve out a niche within the worship landscape.
Jordan and Steve met in March of 2020 at a songwriting camp in Atlanta, GA hosted by Maverick City Music. Their friendship started with making jokes, a love for sports and the easy camaraderie gave way to songwriting, and the songwriting to brotherhood. SONS THE BAND was born in Jordan's studio a few months later and dreams started becoming reality as preparation for a live recording began taking shape.
In May, 2021 SONS recorded 7 live songs at a night of worship in Richmond, VA. After the release, the band worked out a deal with TRIBL Records to record a second album. In the spring of 2022, they recorded the next batch of worship songs in Atlanta, Georgia at 1971 Studios. These songs were released in September of that year and the band continues to create new music that will be heard in Summer of 2023.
From the beginning, SONS has been special, a distinctive offering that the two have embraced, knowing the Kingdom of God welcomes more than just what we're accustomed to. They hope the sound they create resonates through the Church and helps add a new expression to the worship of the King.