Rev. Jasmine Smothers – Speaker
We are excited to announce that our Revolution 2018 speaker will be Rev. Jasmine Rose Smothers. She is the Lead Pastor of First United Methodist Church in downtown Atlanta, GA.
Rev. Jasmine is a native of Atlanta, GA. She is an amateur shutterbug who loves music, technology, spending time with her family and friends, and traveling the globe. She is a graduate of Spelman College and Emory University's Candler School of Theology. Above all, Jasmine loves God, loves the Church, and is committed to "equipping the saints for the work of ministry" so that the world may know and be transformed through Christ,
Bonray – Worship Leader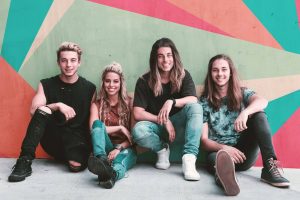 We are excited to announce Bonray as the worship band for Revolution 2018. This four-piece group includes Zac, Jesse, Jake and Morgan Bonner. Yes, that's right – they're all related, in fact, they're siblings! Hailing from Pennsylvania, they grew up in the church where their dad serves as pastor. The siblings have been playing music and performing together for most of their lives, crediting their parents for always having music in the home. Since officially becoming Bonray in 2014, the group has been touring around the U.S. Their new single "Turn My Eyes" is gaining lots of publicity and they will have another single coming out in January 2018 just before hitting the Revolution stage. Bonray is not only a super talented band, they are lots of fun and their energy and passion for worship is sure to inspire all of us. When it comes to being siblings, here's what they have to say, "We're a family and we're a band, we work together and we do life together. Faith and music was such a big part of our family growing up…and this is what it's meant to be. We're all best friends and we work through everything together. It's awesome to be able to experience these things with people that you know will be with you for the rest of your life." Check out Bonray's Youtube channel to hear how great they are – and make plans to meet them in person at Revolution 2018!